Are you about to take the AAPC exam for Certified Professional Coder for the first time?  Have you FAILED the exam and are now looking to retake the test, perhaps for the second, third or fourth time?

150 Question CPC Practice Test
Answer Key, With Full Rationale
Scan Tron Bubble Sheets
The Exam Study Guide, including:
Common Anatomy Terminology Handouts
Common Medical Terminology Prefix, Root Word, and Suffix Handouts
The Official AAPC Proctor-to-Examinee Instructions(read out loud on the day of the exam)
OR, Read on for more information…
A good practice exam should fully prepare its examinee for the real exam. They should know what to expect and not be surprised on exam day.  The AAPC's CPC exam is 150 questions and must be completed in 5 hours and 40 minutes or less.
Guidelines
Payment management
Medical terminology
Anatomy
ICD-10-CM codes
HCPCS codes
Integumentary
Musculoskeletal
Respiratory
Cardiology
Hemic/Lymphatic systems
Mediastinum/Diaphragham
Digestive
Urinary
Male and Female reproductive organs
Maternity/ Endocrine system
Nervous system
Eyes/Ears
Evaluation and Management
Anesthesia
Radiology
Pathology
Medicine
This 150 question CPC practice exam was created using the structure listed above in order to emulate the actual CPC exam.  By doing this, examinees will know exactly what to expect on examination day. Also it will better prepare you for the exam by focusing on category specific questions and identifying areas of weakness. Knowing what to expect in detail also tends to help calm pre-test anxiety.
Coding Guidelines
Understanding of Conventions
Correct Modifier Use
Bundling and Global Packages
Medical Terminology and Gross Anatomy
In addition to the well constructed questions, this book also provides a full rationale for each CPC exam question.  These rationales provide the correct answer for all CPC exam questions.  As well as a full explanation to why the option is correct, why the other three options are incorrect, and where in the medical coding books the answer can be located.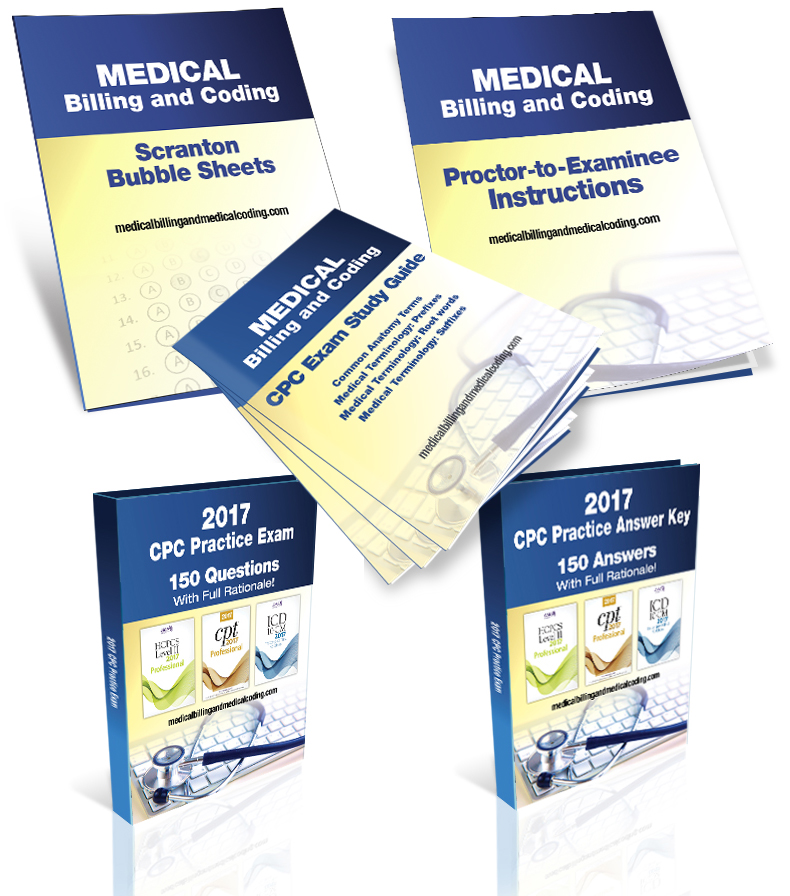 The CPC Medical Coding Practice Exam is delivered as an electronic download (in the PDF format).  So it's instantly accessible after purchase. Even if it's 11pm and you are taking your exam tomorrow morning!  Get the book you need to know the CPC Exam Questions and ace the test!